At the northwest edge of the plain of Thessaly, between the mountain of Pindos and Antichasia and near Peneios river, the stone giants of Meteora stand still and silent. Their proud and imposing aspect discontinues the monotony of the vast Thessalic plain. The rocks stand right above Kalambaka and the picturesque Kastraki, full of awe and beauty.
A daily excursion combines the unique experience that Meteora, also known as "The Stone Forest", offer with the religious sentiment created by their Monasteries. The journey to Meteora starts from Volos and other resorts in Pelion.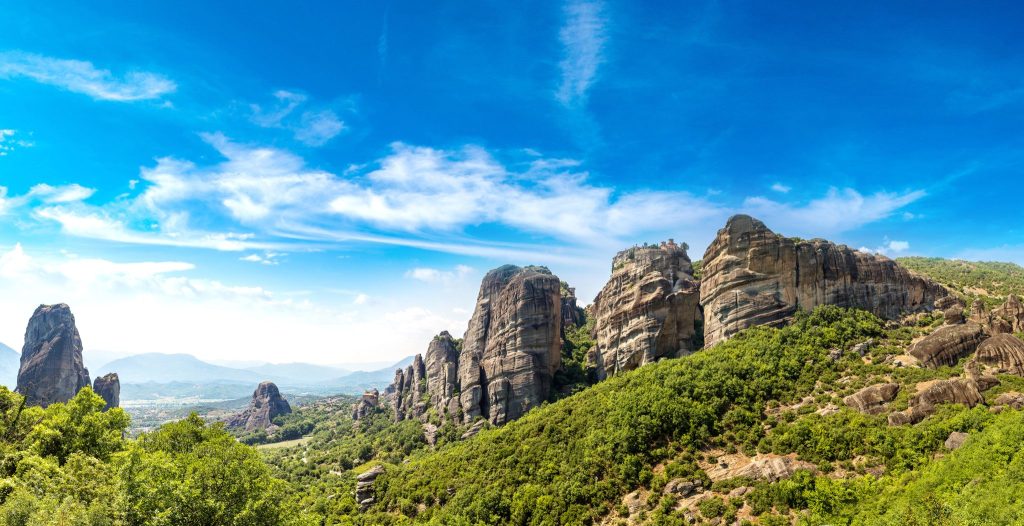 We pass by the cities of Larisa, Trikala and Kalambaka. After Kalambaka, we shortly reach the massively impressive rocks of Meteora. We learn about the monarchy of the 11th century and we have also the chance to visit two of the historical monasteries.
Usually we visit the Monasteries of Agios Stefano, Big Meteoro, Varlaam or Agio Nikolao, depending on the day that excursion occurs. Afterwards, we start our descend to Kastraki, where we can have a meal in a traditional Greek tavern enjoying the view. The trip continues across the Thessalian plain towards Volos (appr.3 hours).There, (according to your choice) we can also spend some time to see the town or drink a coffee.
The final schedule will be determined by the tour leader as will be affected by resort starting points and number of participants.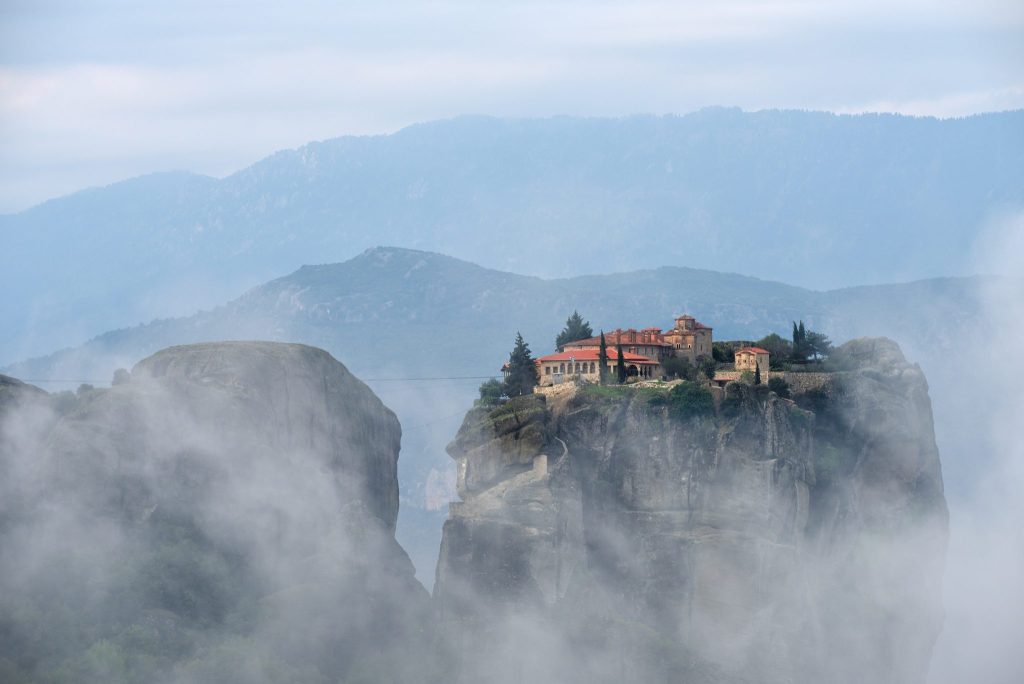 WHAT'S INCLUDED?
⦁ Transfers by modern air-conditioned buses from Volos or Pelion to Meteora and returning back to our place.
⦁ English speaking tourist guides with thorough knowledge on Meteora region history and culture (or other language if necessary)
⦁ Entry tickets for the Monasteries
⦁ Travel and Liability insurance
⦁ Experienced guide from Les Hirondelles travel agency
⦁ All legal taxes
HIGHLIGHT
⦁ The Byzantine art in the monasteries
⦁ Breathtaking view to the Thessalian plain from the top of the rocks.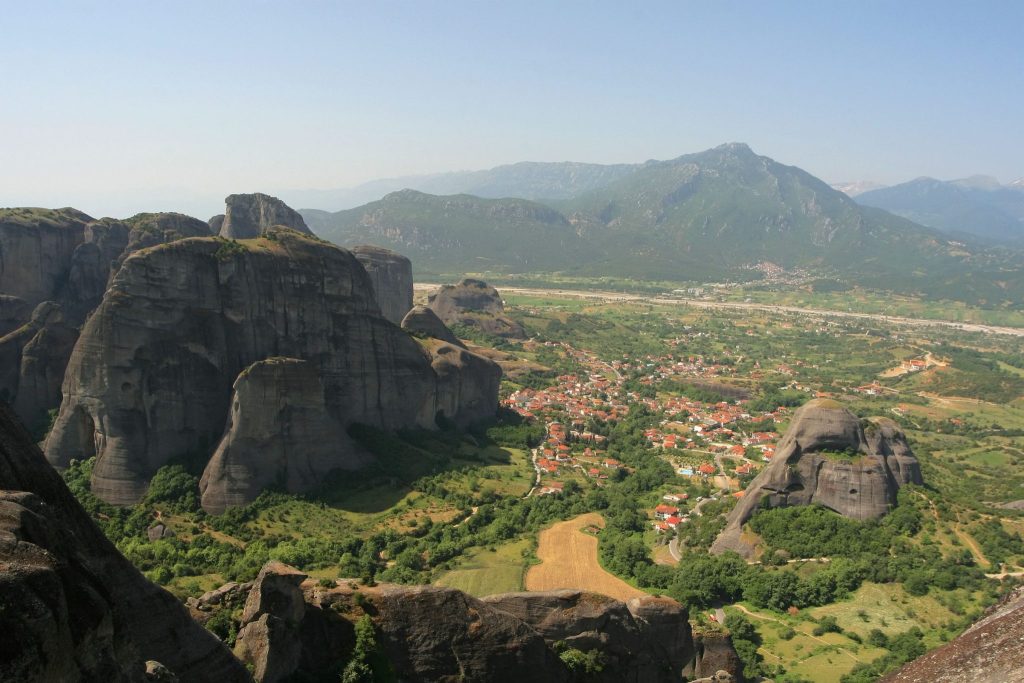 WHAT YOU SHOULD HAVE WITH YOU
⦁ Trekking shoes
⦁ Hat, Comfortable clothes
⦁ Sun Protection
⦁ Sun Glasses
⦁ Water
⦁ All legal taxes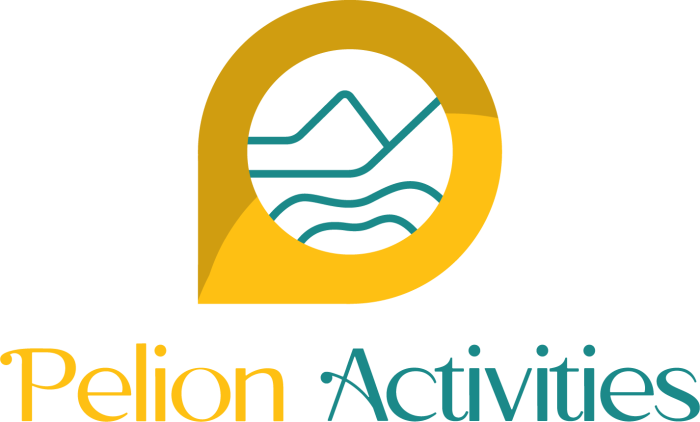 Pelion Activities – LES-HIRONDELLES Travel Agency
Pelion Activities concept is to provide the Best Activities   in Pelion, bringing families together and back to nature with high quality accommodation, a range of outstanding leisure facilities and more than 20 outdoor activities, all set within a protected and enhanced beautiful environment.
Also We offer Excursions, Road Transfers – Day trips & Bespoke programs to suit your requirements – Classic tours all over Greece , Europe, Turkey. Our priority is the safety of your our customers and to ensure they receive a first class and consistent service. Our transportation offering ranges from Buses. Mini Buses, limousines and taxi services that can cover your every transport need. Especially for Pelion routes or from/to the airports of Volos (VOL), Thessaloniki (SKG) Athens (ATH), Ioannina (IOA) with a capacity that varies from 2 to 50 people.
Take advantage of our excellent transfer services in the region of Thessaly – Meteora, Lake Plastira, Volos and Pelion and cruise passenger service. We always ensure you will have an unforgettable experience in Greece and are completely satisfied with our service offering. We also guarantee no hidden debits or charges.
ACCOMODATION
Are you seeking a place to stay in Thessaly? Are Meteora, Lake Plastira, Olympus Mountain, Larissa, Pelion, Volos, Skiathos, Skopelos, and Alonissos islands your favorite destinations in Greece?
Then we've got you covered! Building over the years strong accommodation network we offer various options and styles of accommodation in Greece.
Contact us
Les Hirondelles Travel Agency
All year: Ermou 264, Volos
Summer: Agios Ioannis, Pelion
Phone: +30 693 6737028
E-macallto: info@activities-pelion.gr
Web: https://activities-pelion.gr/
ΜΗ.ΤΕ 0726 Ε60000026400/2015