Let's explore the south area of East Pelion coastline by discovering the lovely beaches and breezeless bays, hidden by steep cliffs and vegetation, some well-known and some almost isolated without easy access from the land.
During the trip, we will get enchanted by the beauty of nature, the traditional churches and the stone buildings ashore. The point of departure is situated in the small port of Agios Ioannis, and upon request, it can be either Horefto or Damouchari.
We sail to the historical cove of Damouchari where it used to be the area's center of commerce a long time ago and we visit the impressive beach where the film Mamma Mia was shot.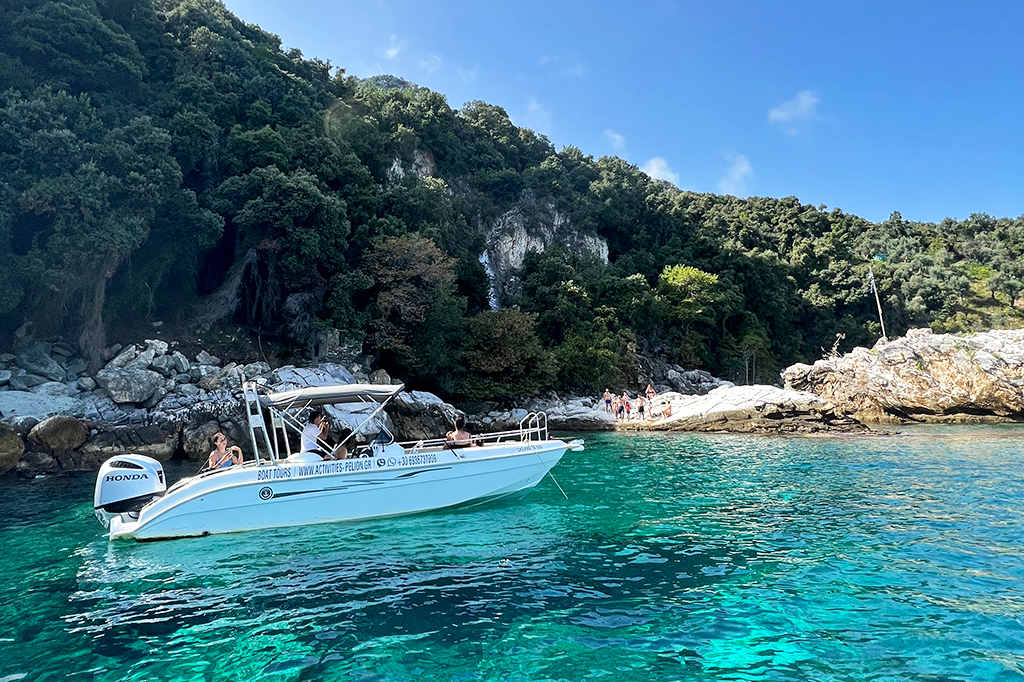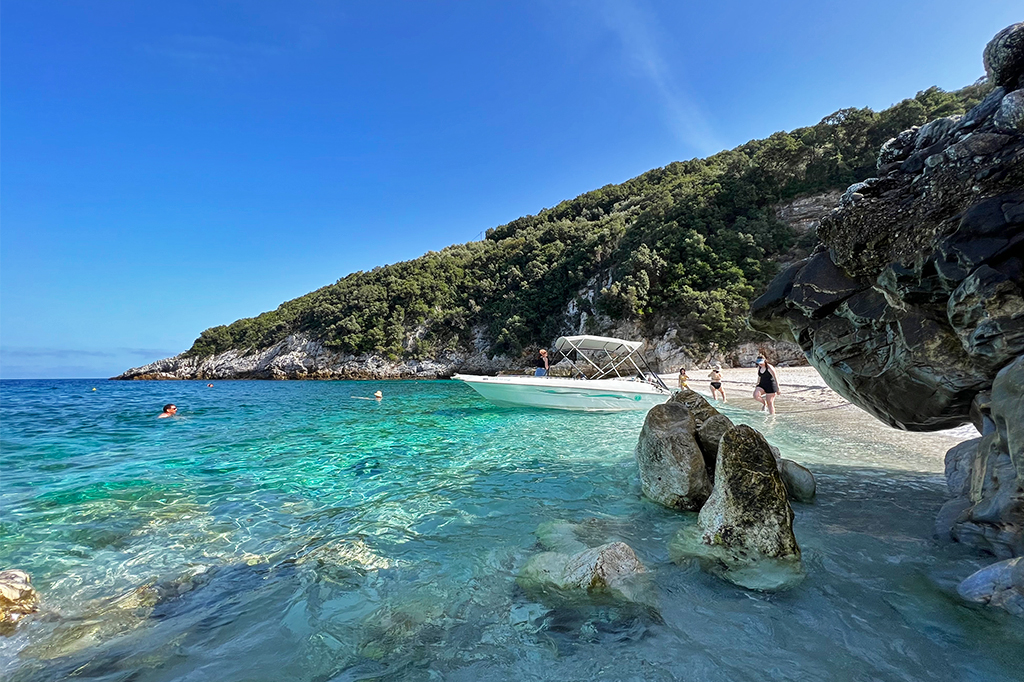 Then, we approach Agios Athanasios Bay where we can swim and feel the differences in water temperature due to the underwater springs.  Next, we approach the Fakistra Cave. The stalagmites and the stalactites, formed throughout thousands of years, create fascinating scenery! We continue to Fakistra beach known for the sky-blue waters and the impressive green nature all around. The next destination is the magical beach of Mylopotamos with the naturally formed rock arch. Last but not least, Limnionas, is a peaceful beach with wild beauty at the same time.
Admire the green nature, dive in and enjoy the blue waters, and breathe the breeze of the Aegean Sea. If you are an avid water lover, go snorkeling in a sea full of life!
WHAT'S INCLUDED?
⦁ Transportation with speed boats.
⦁ Sea equipment (life jacket, snorkels etc.).
⦁ English speaking guide (or other language if requested).
⦁ Photos taken with a GoPro camera during the trip
⦁ Travel insurance
⦁ All Taxes
HIGHLIGHT
⦁ The picturesque port of Damouchari
⦁ The springs of Agios Athanasios
⦁ The cave of Fakistra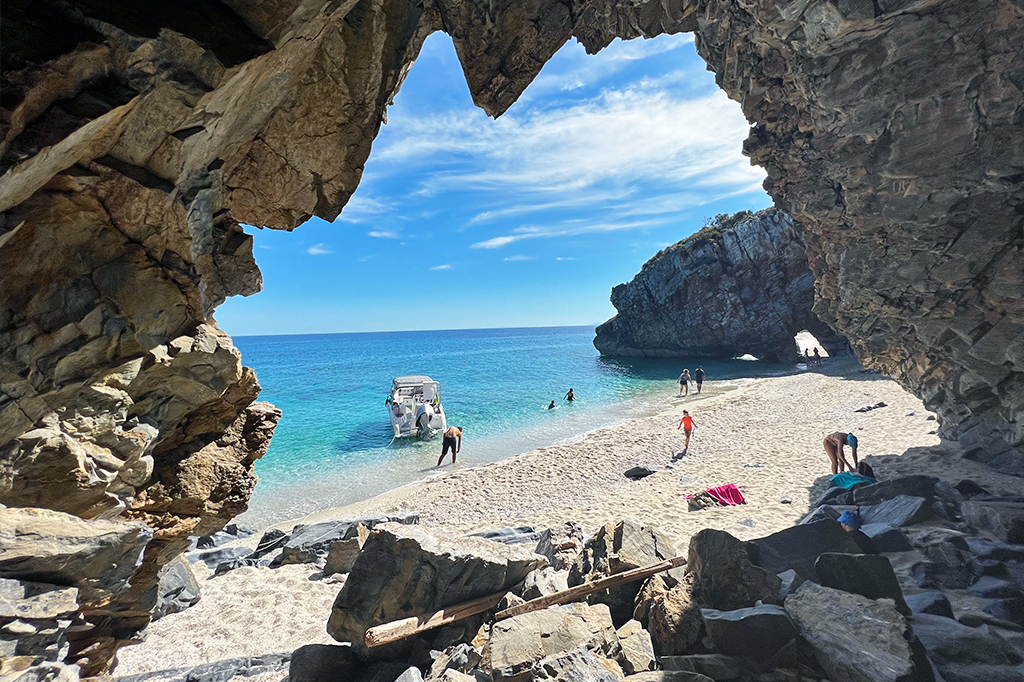 WHAT YOU SHOULD HAVE WITH YOU
⦁ Swimsuit
⦁ Towel
⦁ Hat
⦁ Water
⦁ Sun Protection
⦁ Sun glasses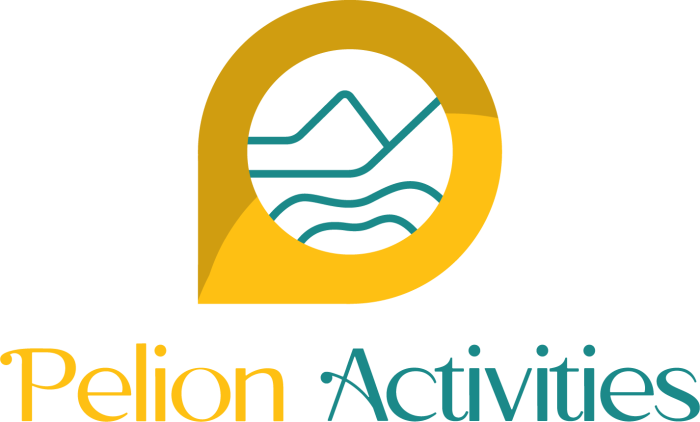 Pelion Activities – LES-HIRONDELLES Travel Agency
Pelion Activities concept is to provide the Best Activities   in Pelion, bringing families together and back to nature with high quality accommodation, a range of outstanding leisure facilities and more than 20 outdoor activities, all set within a protected and enhanced beautiful environment.
Also We offer Excursions, Road Transfers – Day trips & Bespoke programs to suit your requirements – Classic tours all over Greece , Europe, Turkey. Our priority is the safety of your our customers and to ensure they receive a first class and consistent service. Our transportation offering ranges from Buses. Mini Buses, limousines and taxi services that can cover your every transport need. Especially for Pelion routes or from/to the airports of Volos (VOL), Thessaloniki (SKG) Athens (ATH), Ioannina (IOA) with a capacity that varies from 2 to 50 people.
Take advantage of our excellent transfer services in the region of Thessaly – Meteora, Lake Plastira, Volos and Pelion and cruise passenger service. We always ensure you will have an unforgettable experience in Greece and are completely satisfied with our service offering. We also guarantee no hidden debits or charges.
ACCOMODATION
Are you seeking a place to stay in Thessaly? Are Meteora, Lake Plastira, Olympus Mountain, Larissa, Pelion, Volos, Skiathos, Skopelos, and Alonissos islands your favorite destinations in Greece?
Then we've got you covered! Building over the years strong accommodation network we offer various options and styles of accommodation in Greece.
Contact us
Les Hirondelles Travel Agency
All year: Ermou 264, Volos
Summer: Agios Ioannis, Pelion
Phone: +30 693 6737028
E-macallto: info@activities-pelion.gr
Web: https://activities-pelion.gr/
ΜΗ.ΤΕ 0726 Ε60000026400/2015