This day trip offers the chance to experience a ride on the famous train of Pelion, created in 1895. In this itinerary, we can discover details of one of the most characteristic railway lines in the world (60 cm wide narrow gauge railway).
Being a work by Evaristo de Chirico – the father of the famous painter Giorgio de Chirico is known for its high aesthetics and its architectural harmony, parts of which are the bridges we cross along our way.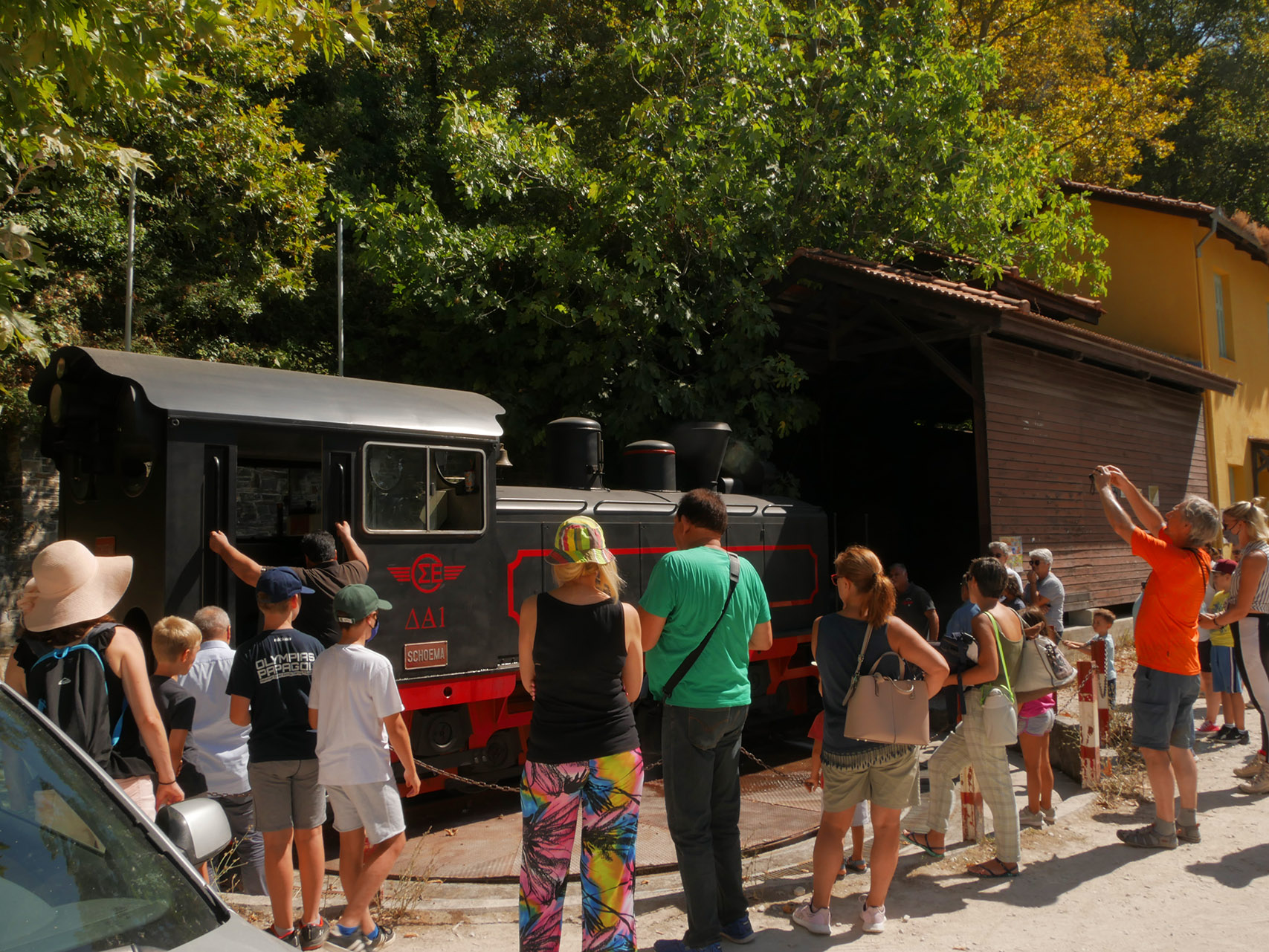 We depart by bus from Volos or Agios Ioannis to Ano Lechonia. We board the train and enjoy the 1:30 hour adventure with the famous "Mountzouris", meaning in Greek " being covered with coal dirt" (by the colas that used to be the fuel).
Having arrived at the railway station of Milies, we follow a path towards the village center, with its famous square and the exceptionally decorated -with wood-carved interior- church. Optionally, we can continue by bus to Vizitsa, where we will have a traditional lunch and visit the traditional attractions of the villages.
Return to our place early in the afternoon.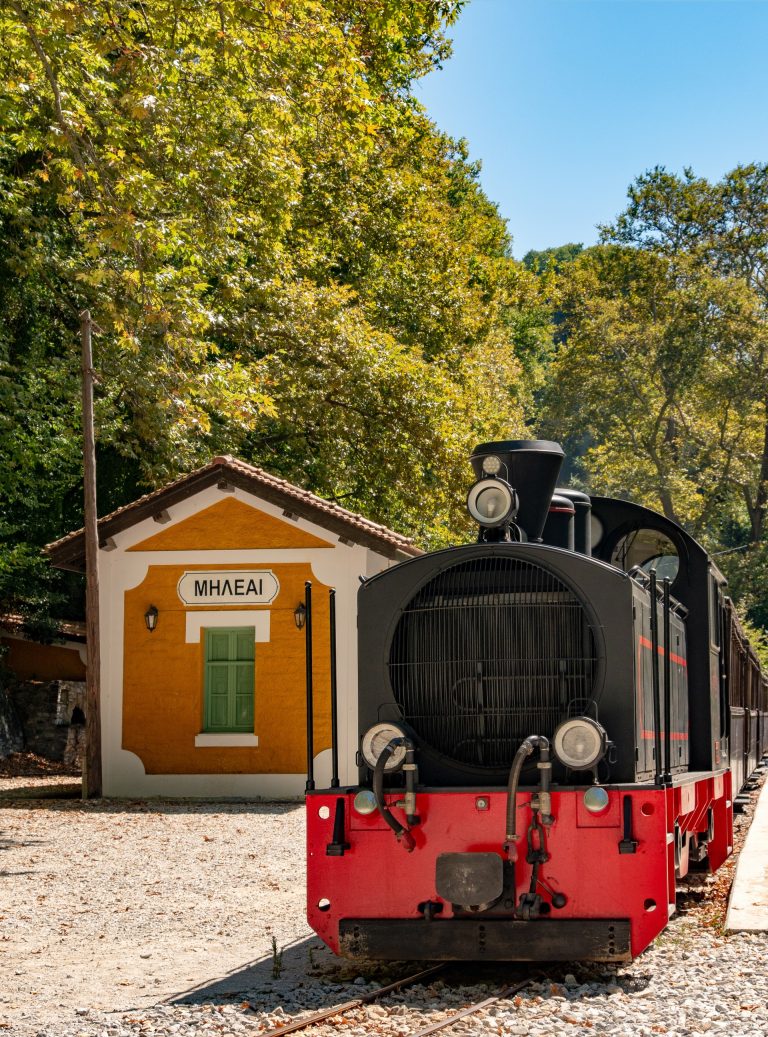 WHAT'S INCLUDED?
⦁ Transportation by minibus
⦁ Train tickets
⦁ Insurance and Vat
HIGHLIGHT
⦁ The Train "Moutzouris" itself
⦁ The bridge of De Chirico
⦁ The square and church of Milies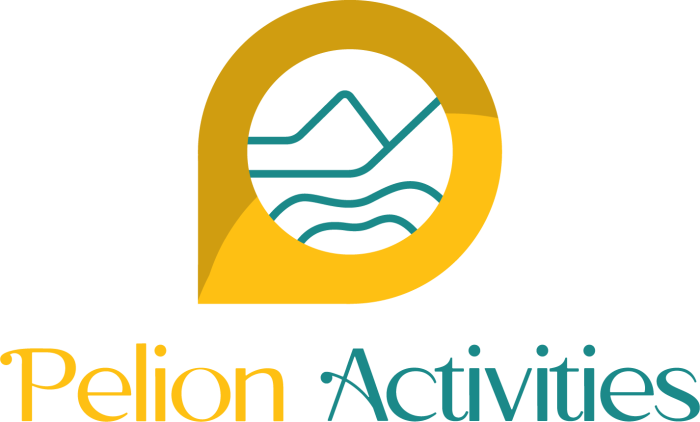 Pelion Activities – LES-HIRONDELLES Travel Agency
Pelion Activities concept is to provide the Best Activities   in Pelion, bringing families together and back to nature with high quality accommodation, a range of outstanding leisure facilities and more than 20 outdoor activities, all set within a protected and enhanced beautiful environment.
Also We offer Excursions, Road Transfers – Day trips & Bespoke programs to suit your requirements – Classic tours all over Greece , Europe, Turkey. Our priority is the safety of your our customers and to ensure they receive a first class and consistent service. Our transportation offering ranges from Buses. Mini Buses, limousines and taxi services that can cover your every transport need. Especially for Pelion routes or from/to the airports of Volos (VOL), Thessaloniki (SKG) Athens (ATH), Ioannina (IOA) with a capacity that varies from 2 to 50 people.
Take advantage of our excellent transfer services in the region of Thessaly – Meteora, Lake Plastira, Volos and Pelion and cruise passenger service. We always ensure you will have an unforgettable experience in Greece and are completely satisfied with our service offering. We also guarantee no hidden debits or charges.
ACCOMODATION
Are you seeking a place to stay in Thessaly? Are Meteora, Lake Plastira, Olympus Mountain, Larissa, Pelion, Volos, Skiathos, Skopelos, and Alonissos islands your favorite destinations in Greece?
Then we've got you covered! Building over the years strong accommodation network we offer various options and styles of accommodation in Greece.
Contact us
Les Hirondelles Travel Agency
All year: Ermou 264, Volos
Summer: Agios Ioannis, Pelion
Phone: +30 693 6737028
E-macallto: info@activities-pelion.gr
Web: https://activities-pelion.gr/
ΜΗ.ΤΕ 0726 Ε60000026400/2015